Ice Center Makes Snow For Dying Dog To Roll In One Last Time [Video]
Utah's Salt Lake County Ice Center made gallons of snow for a terminally ill dog so she can enjoy it one last time.
The snow-loving Maggie loved winter but was diagnosed with cancer.
Her owner asked the internet for shaved ice machine and the ice skating facility stepped up and granted the wish.
---
An ice-skating center in Utah made snow to grant a family's last wish for their terminally ill dog.
On Sept. 24, Elijah Saltzgaber posted a call for help on social media asking if anyone has a shaved ice machine.
"Our sweet dog Maggie is passing of cancer and on Monday we want to build her one last snowbank to roll in," he said.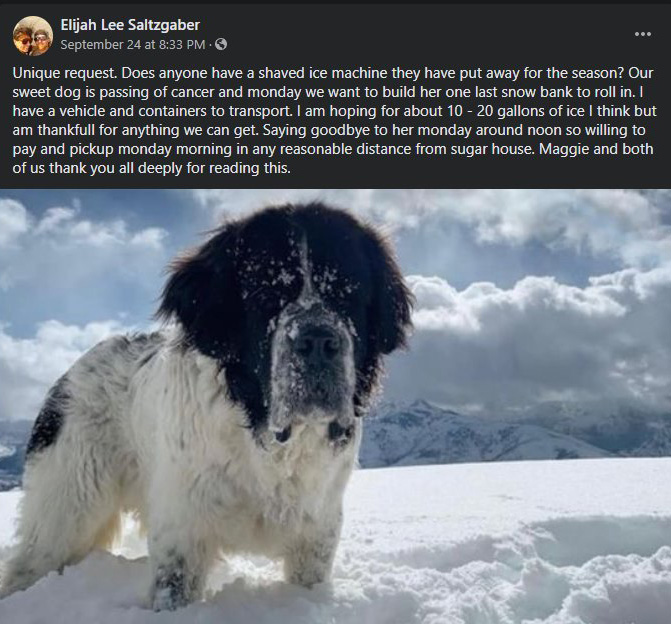 Photo Credit: Salt Lake County Parks and Recreation
The request made its way to the Salt Lake County Ice Center, a year-round, indoor ice skating facility. They quickly went to work making Maggie's dying wish come true.
"It's not always about skates and hockey pucks at County Ice Center. Today was a bitter sweet day, as we had an opportunity to help make a difference for a very special dog, Maggie," a spokesperson for the ice center wrote in a Facebook post.
"This morning we filled bins, buckets and the back of his van with the ice shavings from the rink. Maggie enjoyed her last morning with her two favorite things, snow and her owners."
The County Ice Center shared several photos of Maggie enjoying her personal snowbank, which included a sign that read "Maggie's Snow."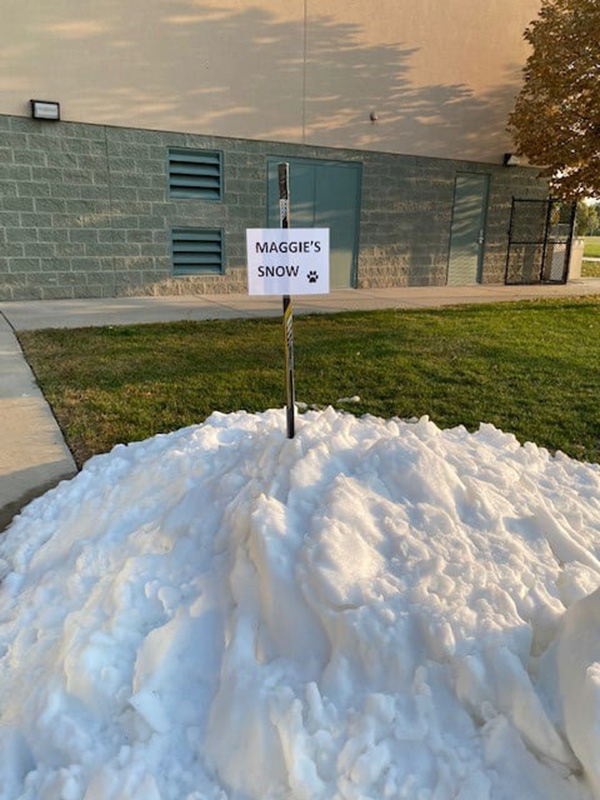 Credit: Salt Lake County Parks and Recreation
Maggie's owners also shared a final goodbye video of Maggie playing in the snow made just for her.
Source: People