Family Went Out Fishing, Ended Up Saving A Wild Bear With Its Head Trapped In A Plastic Barrel! [Video]
Tricia Hurt and her family went out fishing at Marsh-Miller Lake on Sunday when they noticed something odd on the water.
They thought it was a dog but as it came nearer, they realized it was a bear with its head trapped in a plastic barrel.
So they quickly acted to save the poor animal and when they finally did it swam away leaving them happy to have saved the day!
---
A family from Wisconsin had the chance of saving a young black bear after its head got stuck in a plastic container—and it was such a rare and special experience.

On Sunday, Tricia Hurt went out fishing with her husband and their son at Marsh-Miller Lake when they noticed something odd in the water.

Initially they thought it was just a dog cooling down in the lake but then they realized it was much bigger and very hairy as it moved closer to them.

"I said, 'That ain't no dog. I think that's a bear.' We got closer and I said, 'Yeah, that's a bear that got hungry and got its head stuck in a bucket,'" she told the Milwaukee Journal Sentinel.

They noticed how the bear was struggling and had difficulty breathing while the water was seeping slowly into the barrel. So they quickly moved to save the poor animal and free him. They also managed to capture it in a video which has since gone viral on Facebook.

"We got a bear here. Poor thing's got a tub on its head," she says, as a bear struggles to paddle in the water with the plastic container on its head. "Oh, he's scared."

After some failed attempts, Tricia 's husband was finally able to pull the bucket off the bear's head and he swam away while they all cheered.

"We knew that if we didn't do something, we are pretty sure it would not have made it to shore," Tricia told CNN. "'It was really huffing and puffing,' my husband said."

Later on the family learned from a nearby resort bar that the bear had the container on his head for about three to four days before their accidental rescue. Although people have already notified the Wisconsin Department of Natural Resources about it, the officers had difficulty finding the wild animal.

"We were so excited! We did our good deed for the day," she said. "We will never ever do this again, and it felt good to help the poor bear. You don't like to see animals struggle."

Source: PEOPLE.Com

Donkey's Delight Over Unicorn Toy Wins Internet Hearts [Video]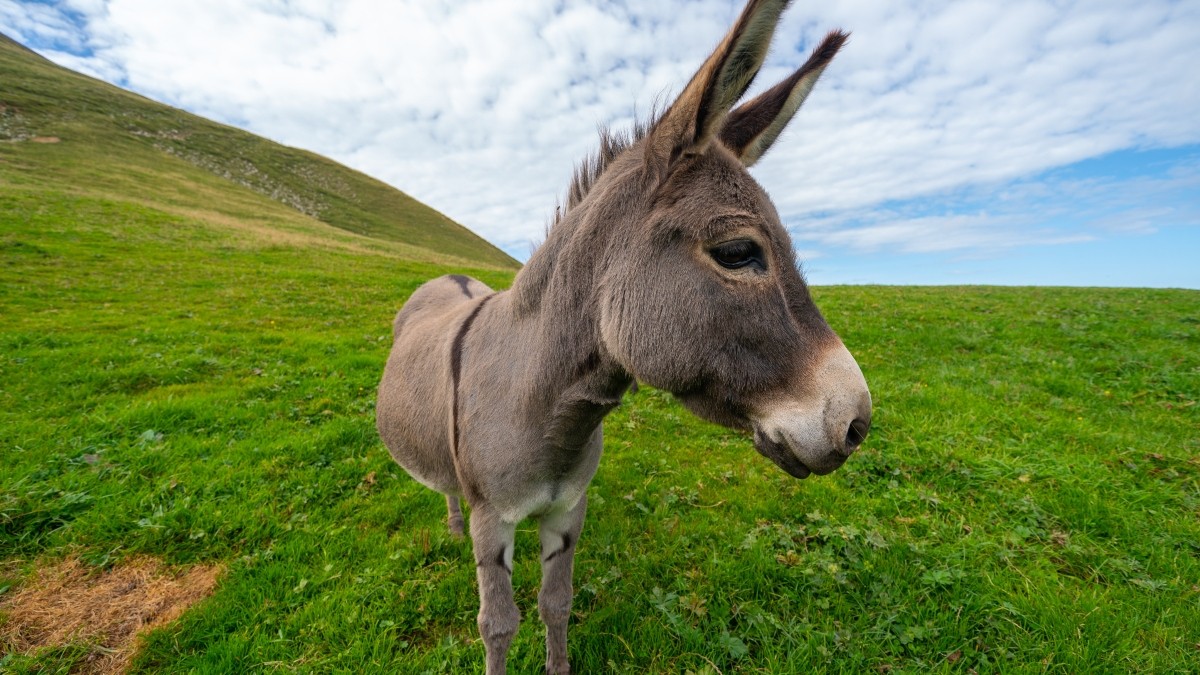 Quick Smiles:
Joy Unbridled: A donkey's sheer delight upon receiving a pink unicorn toy is the internet's latest obsession.
Reactions Galore: Netizens pour love and laughter in response, with comments reflecting the universal appeal of pure happiness.
Wholesome Content: The video serves as a heartwarming reminder of the simple joys of life, providing a much-needed lift to spirits. 🌟🦄
---
Ever witnessed a child's elation upon receiving their favorite toy? Now, imagine that multiplied several times over – but with a donkey and a bright pink unicorn toy.
This isn't your usual farmyard tale but one that's leaving netizens around the globe smitten.
Picture this: On a sunny day, TikTok's screen lights up with a video from user @debbieschluterman. It captures the unmatched glee of a donkey as it spots a luminous pink unicorn toy nearing its pen. The jubilation? Oh, it's palpable! As he hears the soft crinkling of the toy, his delightful grunts echo pure ecstasy.
On receiving the toy, what follows is an absolute spectacle – dashes in joyous circles, some playful biting (with a caring caution from mom), and even a mighty 'lion-esque' roar. Concluding his performance, the unicorn toy finds a place atop his haystack, symbolizing its new-found importance.
Social media was buzzing post this electrifying performance. @kathyburton48 encapsulated the collective sentiment perfectly: "I could watch him all day! He made me as happy as that unicorn made him!"
Echos of concern, love, and unadulterated joy resonated in the comments. @McMedic's remark indeed holds universal appeal: desiring someone to be as thrilled with them as the donkey is with his unicorn toy. Now that's a wholesome benchmark for relationships!
Every so often, the internet showcases content that acts as an antidote to blue days. This video is undoubtedly one such gem. Watching a donkey dance in glee with a unicorn toy is probably the serotonin boost we didn't know we needed!
---
Golden Moments: Young Boy Overwhelmed by Surprise Puppy Gift! [Video]
Quick Smiles:
Heart-Melting Moment: A young boy's joyous reaction to receiving a Golden Retriever puppy as a surprise is making the internet swoon.
Golden Qualities: Renowned for their patience and playfulness, Golden Retrievers make fantastic companions for families with children, teaching invaluable life lessons.
Paw-sitive Future: The bond between a child and their furry friend is profound, promising endless adventures, learning, and cuddles. Cheers to their new journey together! 🎉🐾
---
There's an unspoken, universal truth: kids love surprises! But when it's the four-legged furry kind, reactions can be downright magical. A heartwarming video circulating the internet is a testament to this.
On a sunny Thursday, as shared by TikTok user @kroy78888, we see an innocent box piquing the curiosity of a young boy. But what's inside?
As the box opens, the giggles and glee reveal a gleaming Golden Retriever puppy, causing the boy's heart (and ours) to melt instantly.
Oh my goodness, this is so cute!" could probably be every viewer's first reaction, watching the kiddo's disbelief turn to overwhelming joy. I mean, who wouldn't want a fluffy bundle of happiness?
Golden Retrievers aren't just Hollywood's poster pups for fun; they're genuinely fabulous family companions. They're practically the Mary Poppins of the dog world—practically perfect in every way. Especially for families with kiddos!
Their patience, eager-to-please attitude, and genuine love for play make them the ideal partners for children. Think of all the fetch games, yard romps, and even the little 'oops' moments that will now fill this family's days.
But wait, the perks don't end at fun and games. Growing up alongside a furry friend like a Golden Retriever instills essential values in youngsters. From feeding routines to the occasional bath-time drama (and fun!), children learn responsibility, empathy, and the true essence of companionship. It's a hands-on life lesson package, delivered with wagging tails and wet nose boops.
As we wave goodbye to the video, it's evident that this isn't just a tale of a boy and his dog—it's the start of a beautiful, paw-print-filled journey. Here's to countless fetch games, cuddly nights, and the ever-growing bond between a boy and his Golden. Tail wags all around!
---
Order Up! This Beagle's Chick-fil-A Adventure is Paw-sitively Adorable
Quick Smiles:
A hilarious TikTok video showcases a Beagle "ordering" his dinner from Chick-fil-A, and it's a treat for all viewers.
Drive-thru adventures offer a unique bonding experience and an opportunity to socialize and train your pets.
Always opt for pet-friendly menu options, and cherish the little moments with your furry friends.
---
Think fast-food runs are just a mundane part of your week? Think again!
Especially when you add an eager Beagle, a hilarious dog dad, and the wafting aroma of Chick-fil-A into the mix. The result? A mouth-watering, tail-wagging adventure that's lighting up TikTok!
According to ParadePets, a video from @lildavidgarcia showcases "the eager Beagle in the front seat as his dog dad rolls into the Chick-fil-A drive-thru." But this isn't just any regular trip to the fast-food joint.
With a twinkle in his eye, dad orders a kid's meal for "his son," panning the camera to the Beagle to gauge his drool-worthy reaction. The pup's meal of choice? "Nuggets, mac and cheese, and apple juice." Who said fine dining was limited to humans?
Once the five-star order is locked in, this Beagle's all like, "Mission accomplished. Back to my comfy backseat!" It's the kind of cinematic brilliance that's not just about the food but the whole experience.
But beyond the chuckles, there's a valuable lesson here. Drive-thrus are not just a ticket to yum-town; they're also a chance to bond with your four-legged friend. New sights! Exciting smells! The thrill of someone else doing the cooking! Plus, it's a great way to socialize your fur baby and offer a training moment. However, remember: always opt for pet-friendly items on the menu. A doggie treat on the side? Yes, please!
In the end, it's the simple things—like sharing a kid's meal with your canine—that become golden memories. So, during your next food dash, don't leave your furball behind. Who knows? They might just order the tastiest thing on the menu!
---