Adopted Cat Shows Thanks To Her New Mom By Fetching Her Slippers Every Morning [Video]
A rescued cat brings slippers over to her mom every morning to show how thankful she is of her.
Kayla and her mother adopted this 10-year-old cat named Lulu despite her health problems.
It looked as if the cat tried to think of ways how to thank her family. Now, the shoe hunting activity is now a part of their morning routine.
---
This story is about animals that truly understand just how wonderful it is to find forever families.
Kayla and her mother made their way into the animal shelter in their community to adopt. When they got there, she wanted to bring home one of the kittens, but her mother decided on this 10-year-old cat named Lulu.
"I tried to convince my mom to get a kitten, but she clearly knew what she was doing," Kayla said.
The cat had been rescued and brought into the shelter the year before. Her mother decided on bringing the cat home in spite of her health conditions. She just had the feeling that this cat is the one.
The old cat settled in nicely, living in a home with her new family that constantly showers her with the love and affection she needs. The living arrangements pushed the cat to foster this attachment to her new mom whom she wants to be around all the time.
To show her gratitude, Lulu comes into her mom's room in the morning, bringing in her slipper in her mouth. Lulu drops the slipper on the floor and exits the room. When she comes back, she brings the other slipper!
"My mom was surprised [the first time it happened],"Kayla said. "She wore the drool-covered slippers to encourage Lulu."
This shoe hunting became a part of their morning routine. The cat makes it a point to deliver the footwear one at a time into the bedroom, and her mom is more than thrilled.
"I didn't believe her until she got it on camera," Kayla added.
She decided to share the video of the cat online. In no time, the "Lulu the Slipper Cat" video went viral. The family is just happy about the extra love their cat receives following the video posting.
"It really seems like she just wants to take care of my mom, since my mom takes such good care of her," Kayla said.
This is without a doubt the purr-fect love language. Lulu certainly knows how to express how much she cares for her family.
Source: Inspire More

Must-Watch: Golden Retriever's Adorable Game of Peek-a-Boo
Quick Smiles:
Maverick, the adorable Golden Retriever, melts hearts by playing a charming game of peek-a-boo with a towel over his head.
"Where's Maverick?" echoes his mom's playful voice, enhancing the delight in the scene, as the treat offers a delightful twist.
This heartwarming play is more than a joyous moment; it serves as mental stimulation, building trust and strengthening the bond between Maverick and his human.
---
Scrolling through the digital world, we often stumble upon countless delightful pet videos, each one a treasure trove of joy and laughter.
However, a golden gem named Maverick has recently captivated hearts and sparked an outpour of giggles with his endearing love for a timeless game, peek-a-boo!
In the viral clip shared by @maverickthegolden, we are invited to witness a heartwarming scene: Maverick sits patiently, a towel forming a makeshift veil over his head.
The air is filled with anticipation as his mom's playful voice rings out, teasing, "Where's Maverick?"
The suspense is further sweetened when a treat is introduced into the game, creating a delightful twist while he sits, still draped in his towel.
But beyond the undeniable warmth and cuteness of this scene lies a deep significance in this simple game.
Playing peek-a-boo or similar playful activities taps into pivotal aspects of a dog's development and well-being, offering them mental stimulation akin to the benefits humans reap from puzzles or problem-solving activities.
It helps sharpen their minds and enhances their cognitive abilities as they try to discern the origin of the voice and understand the promised treat's presence.
The joy-filled interactions witnessed in the clip are also foundational in building trust. The game, intertwined with positive, reward-based exchanges, helps Maverick strengthen his bond with his human, creating a harmonious pet-parent relationship. Such bonding is essential, cultivating an environment filled with trust and mutual respect.
There's a lesson to be gleaned about impulse control as well. Many a dog would have impulsively thrown off the towel, but not Maverick. His patience is a testament to the importance of teaching dogs to control their impulses, paving the way for commendable behavior in varied situations, whether it be patiently waiting for food or maintaining composure during vet visits.
Furthermore, introducing dogs to new scenarios through such delightful games is instrumental in making them more adaptable. It aids in desensitizing them to unfamiliar situations, reducing the likelihood of fear or anxiety in different environments.
As we indulge in the joyful antics of Maverick and share his adorable moments, let's also take a pause to reflect on and appreciate the profound joys and learnings that come from bonding through play, shaping our furry friends into well-rounded companions. Here's to more moments of laughter and learning with our lovable pets!
---
Pug's Joyful "Scream-Song" Spreads Laughter [Video]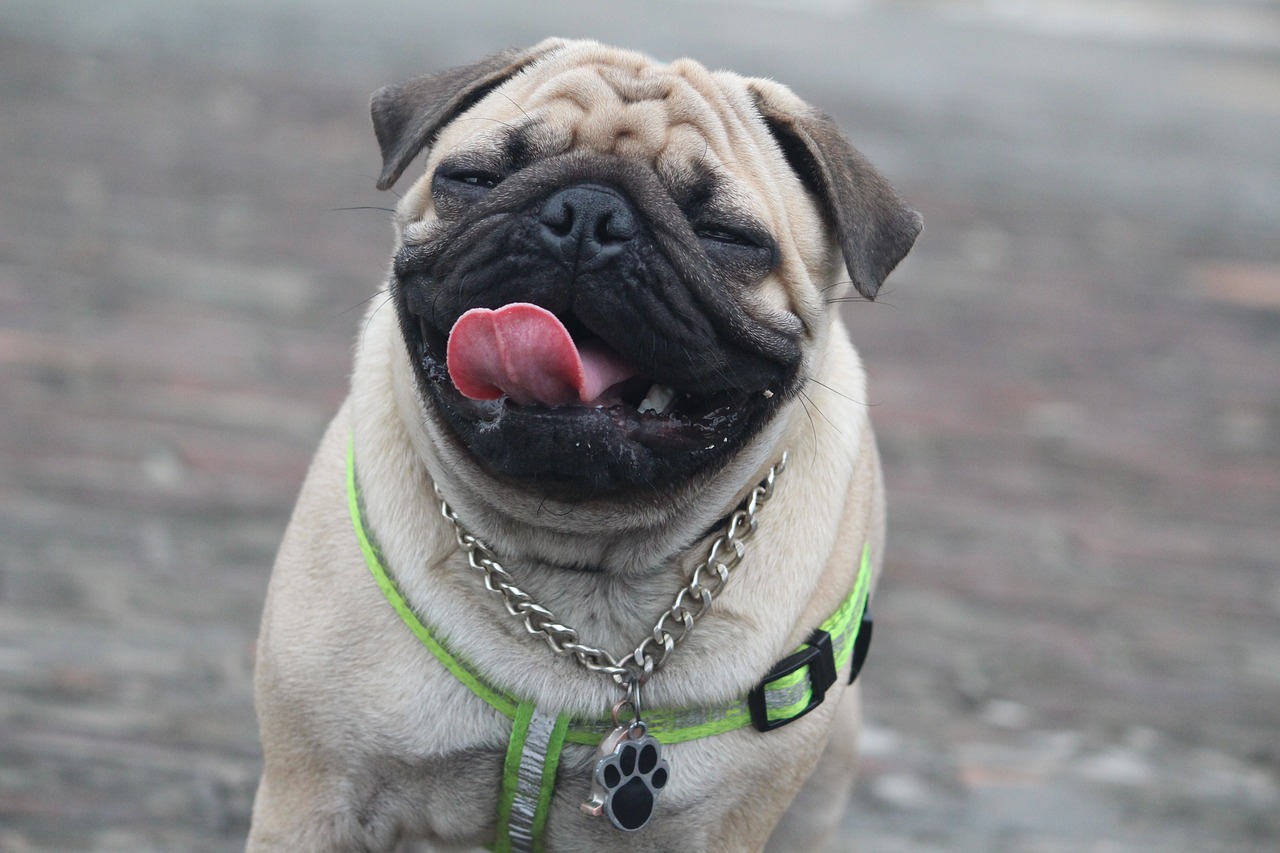 Quick Smiles:
Floki the Pug delivers an amusing and lovingly melodramatic 'scream-song,' capturing hearts and spreading joy across the internet!
Known for their unique vocalizations, Pugs like Floki often 'sing' out of excitement, attention-seeking, or just to communicate with their human friends.
Floki's whimsical concert showcases the affectionate and playful nature of Pugs, reminding us of the endearing quirks that make each breed special.
---
The delightful world of canine quirks has brought forth yet another gem of joyous hilarity!
In a moment of pure canine charm, we meet Floki the Pug, whose ecstatic 'scream-song' has both amused and puzzled the internet, showcasing a harmonious blend of howls and screams lasting a jovial 20 seconds!
For those new to the lively world of Pugs, Floki's performance might seem peculiar, but fret not, our little friend is merely embracing his spirited Pug nature.
With their adorable wrinkled faces and expressive eyes, Pugs have long been cherished as affectionate and playful companions, often stealing our hearts with their dramatic vocal renditions—ranging from lively grunts to harmonious howls!
But what propels our Pug friends into these vocal frolics? It's their distinctive short-nosed anatomy! This unique facial configuration makes them more vocal, turning them into the adorable noisemakers we all love.
Whether it's an expression of boundless excitement, a call for attention, or just their quirky way of 'talking,' a Pug's varied vocalizations are their heartwarming attempts to communicate with their human companions.
Floki, with his theatrical vocal expressions, seems to amplify his responses to the enchanting world around him—be it a beloved toy, the anticipation of a scrumptious meal, or even a rhythmic melody playing nearby.
And let's not forget, our Pug friends do relish attention!
Knowing their vocal escapades draw reactions, they might just be amplifying their charm for those extra cuddles and affectionate belly rubs.
Floki's enchanting TikTok debut offers us a splendid peek into the delightful peculiarities of the Pug breed. His mini concert, filled with amusing vocals, beautifully illustrates the sweet and eccentric essence of Pugs.
Whether expressing joy through howls or singing the soulful songs of their lineage, Pugs, with their animated personalities, never fail to be the enchanting stars of the show, stealing our hearts one note at a time!
So, let's celebrate Floki and his fellow Pugs! Let's embrace the laughter and joy they bring into our lives with their loving antics and melodious 'conversations.'
After all, it's these cheerful moments and loving companions that add that extra sprinkle of happiness to our days!
---
Golden Buddies' Sun-Filled Day of Play Spreads Joy and Smiles! [Video]
Quick Smiles:
Golden Retrievers, Oatmeal and buddy, bring laughter and light with their delightful playdate in the park.
A viral TikTok clip captures the furry friends embarking on various adventures, from splashing in puddles to a friendly game of chase.
This heartwarming moment reminds us of the simple joys of play and friendship, echoing the importance of socialization and health for our four-legged companions.
---
Isn't it delightful to see our fuzzy companions frolicking in the sun, playing chase, and splashing about in mud puddles?
We find a piece of pure, unadulterated joy in a playful moment caught on a TikTok video by @goldenchilaquil, featuring two adorable Golden Retrievers, including one named Oatmeal.
Their wagging tails and ecstatic greetings set the tone for a day filled with happiness and simple pleasures.
Amidst the sun's gentle warmth and the park's vibrant green, our golden buddies engage in amusing escapades, each one brimming with joyful zest.
For our lovely fur-babies, much like us, socialization is a key aspect of a fulfilled life. Interaction with their furry peers not only helps them learn appropriate behavior and essential life skills but also fosters a sense of confidence.
Regular social engagements not only ward off feelings of anxiety and depression in our pets but also mitigate the chances of destructive behavior.
Active play brings along myriad health benefits as well. Remember the joyous splashes in the puddles? That swimming is a superb low-impact exercise, aiding muscle development and promoting joint health.
Even the sheer act of running around the grassy expanses can do wonders for their cardiovascular health and keep those extra pounds at bay!
But it's not just about fun and games. Oatmeal and his charming friend share activities that are therapeutic, enhancing their physical and emotional well-being. In the act of digging and running, they find moments of stress relief and joy.
In our fast-paced lives, we sometimes overlook the simple joys. The laughter and happiness radiating from Oatmeal and his friend serve as gentle reminders to step out and relish in the unabated joy of play and companionship.
A sun-filled day in the park, a wagging tail, a splash in the puddle—sometimes, that's all the therapy we need, to paint our lives with the colors of joy and happiness.
Let's take a cue from our golden buddies. Let's slow down, embrace the warmth of the sun, the laughter of friends, and the sheer delight of living in the moment. After all, a happy heart and a joyful spirit are timeless treasures!
---