Kevin Bacon and Kyra Sedgwick Perform 'Goat Songs' Duet for Farm Animals [Video]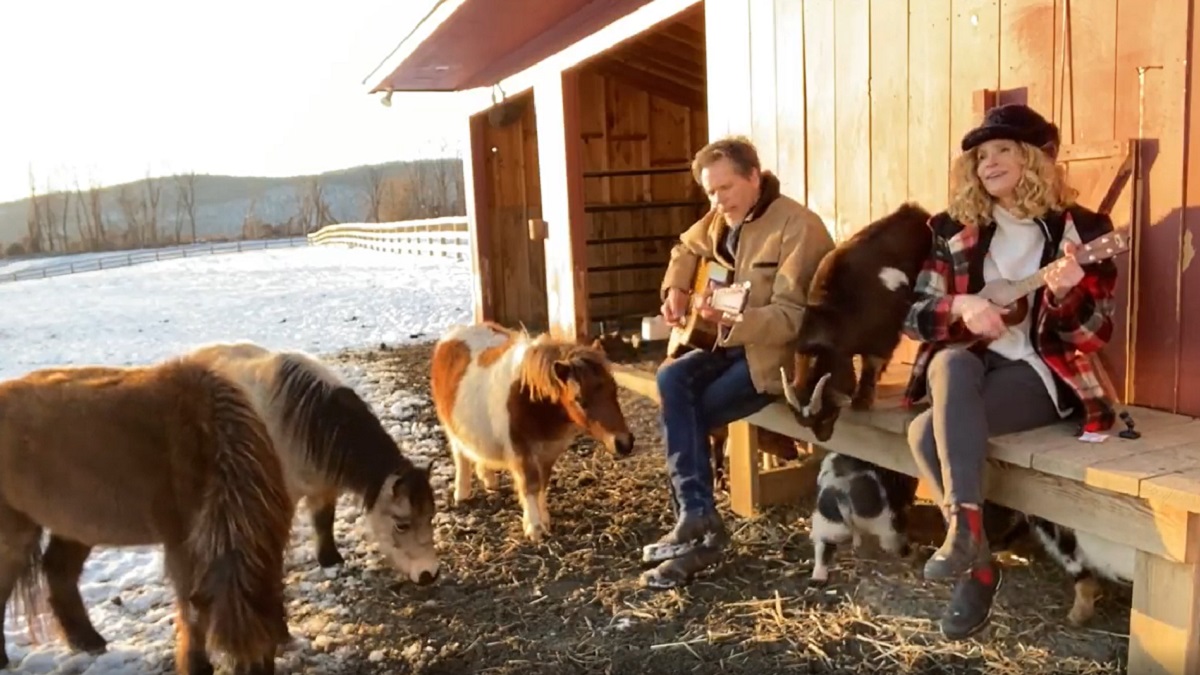 Kevin Bacon and Kyra Sedgwick introduced everyone to some of their farm animals last week.
Surrounded by goats, pigs, and miniature ponies, the couple performed a sweet acoustic duet called "Goat Songs."
The couple of nearly 35 years did a rendition of The Beatles' "Two of Us."
---
Who would have thought that serenading farm animals would make for a great music video? Well, Kevin Bacon and Kyra Sedgwick proved they still got their romantic rhythm when they performed a sweet acoustic duet in their Connecticut farm.
In the video shared on Instagram, the couple can be seen outside a barn, surrounded by goats, pigs, and miniature ponies.
They then performed their rendition of The Beatles' 1969 track "Two of Us," with Bacon playing the guitar and Sedgwick playing the ukulele.
As the video was about the end, Sedgwick stood up to dance, and a Pygmy goat joins her.
Bacon, 63, and Sedgwick, 56, tied the knot in 1988. They have a 32-year-old son, Travis, and a 29-year-old daughter, Sosie.
Travis Bacon also showcased his musical talent in November when he performed with his metal band, Contracult Collective, at the Welcome to Rockville music festival in Daytona Beach, Florida.
Sedgwick proudly wrote at the time, "My insanely talented kid rocked the house yesterday and I was lucky enough to be there!!" She also shared a photo of Travis leading the band on guitar and vocals.
Married for nearly 35 years, Bacon previously told PEOPLE the secret to how they've made their marriage work for so long.
He said back in 2020, "Kyra and I believe in each other as actors, as directors, and as talent. She's never been anything other than supportive of me. She doesn't have a competitive bone in her body when it comes to me. She takes my successes as hers. I'm the same way."
Source: PEOPLE