Shelter Helps Reunite Mama Stray Cat With Her Kittens [Video]
When Toodles the cat arrived at the shelter, everyone could see that she was a new mom.
So they made sure that Toodles' kittens were found and brought to their mom immediately.
Toodles instantly relaxed after being united with all her kittens!
Toodles was living as a stray cat in a mobile home community until early April, when an altercation with a dog left her in a risky situation.
Thankfully, Mindy Brocato, one of the community residents, rushed Toodles to the Anne Arundel County Animal Care & Control, where she works.
It was soon made obvious that Toodles was a new mom. 
"Toodles was lactating and clearly had recently had kittens," said one of the board members at Friends of Anne Arundel County Animal Care & Control (FAACAC), Chris Weinstein.
Chris recalled, "Mindy alerted her neighbors to be on the lookout for kittens. Five were found under a mobile home and Mindy rushed them to the shelter."
Mama Toodles meowed with joy as her kittens were brought to her.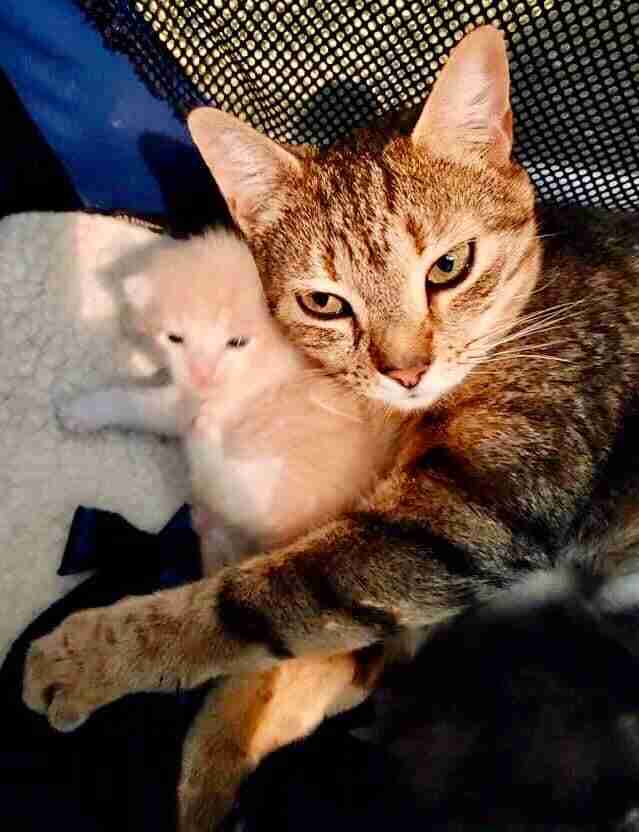 The kittens, who were roughly 2 weeks old, clambered onto their mom and started nursing.
Watch the heartwarming reunion in the video below:
Five little miracles! A stray cat the shelter named Toodles was removed from a very risky situation and brought to Anne Arundel County Animal Care & Control on Monday. She had all the signs of being a nursing mother, but her kittens could not be found. Neighbors were alerted to be on the lookout, and early this morning her kittens were heard mewing in the insulation of a mobile home. An Animal Care & Control staff person, Mindy Brocato, rushed them to the shelter for this heartwarming reunion with their mom. Amazingly, all the kittens — perhaps two to three weeks old — appear to be healthy and are eagerly nursing. ???????????????????? Evening Update: Check out the newest chapter in this story! https://www.facebook.com/678539978905224/posts/2841037819322085/?d=nPosted by Friends of Anne Arundel County Animal Care & Control, Inc. on Thursday, April 9, 2020
The whole family was transferred later to a foster home. But the foster could sense that Toodles was still not at ease.
It turns out that she was still missing one kitten!
The sixth kitten was found a few days later near where her siblings were found.
Mindy immediately reunited the kitten, now named Percy, with the rest of her family.
"The kitten dived right in for a meal. And Toodles? She seems 'much more relaxed now that this NEW baby arrived,' the foster says," the shelter shared in a Facebook post.
Toodles is being the best mom she can be now that she's reunited with her kittens in a comfortable home.
The whole family will be put up for adoption as soon as they are ready to be spayed, neutered, and microchipped.
Toodles and Percy, meanwhile, have already found their forever home.
If you want to help cats like Toodles find their forever homes, consider donating to the FAACAC.
Source: The Dodo