Bikers Stand Up For Victims of Child Abuse and Make Kids Feel Safe and Protected [Video]
Bikers Against Child Abuse (BACA) is an international nonprofit organization that serves as a support system for children who fall prey to family abuse.
They rescue victims of child abuse and support them all the way.
They even stand up in court with them to keep them feel safe and secured.
The Bikers Against Child Abuse (BACA) have been around for twenty years now, but their noble work has only recently been recognized.
BACA is an international nonprofit which recruits volunteer bikers to serve as a support system for children who fall prey to family abuse.
They have members all over the world, such as New Zealand, Australia, Canada, and the United States.
They undergo thorough background checks and training to handle difficult situations.
They would give their own BACA vest to the child they rescue and give them a fancy nickname like "Scooter" and "Pooh Bear."
They would also visit the child upon request and keep him company in times he gets a visit from his abuser and is afraid. In case the child needs to give testimony in court, the bikers escort him and keep watch in the stand.
And all of that is done for free!
Since the group is a nonprofit, they would use their own money for expenses. One time, five of them pledged $100 each to treat a sexually abused teenage girl to get her hair and nails done and buy new clothes.
John Paul Lilly, a clinical social worker and professor, came up with the idea in 1995 when he had an encounter with a bullied boy who was too afraid to leave home. John had the same experience, only that he had biker friends who stood by him.
"They became my family," John says. "I just never felt more secure than when I was with them."
"Bikers have a soft spot for kids," John, who has been a biker since his teens, said. "I couldn't quote you a figure, but I know that a lot of bikers had been abused as kids. When they see a chance to step in and release some of their own demons, they have no problem standing up for a child. It was just such a natural fit."

"The biker image is what makes this work," volunteer biker Rembrandt, 54, said. "Golfers against child abuse does not have the same feel. The pink alligator shirt and golf shoes standing in the driveway doesn't do the same thing."
"When we tell a child they don't have to be afraid, they believe us," another BACA volunteer, Pipes, says. "When we tell them we will be there for them, they believe us."
Source: Tank's Good News


Pug's Joyful "Scream-Song" Spreads Laughter [Video]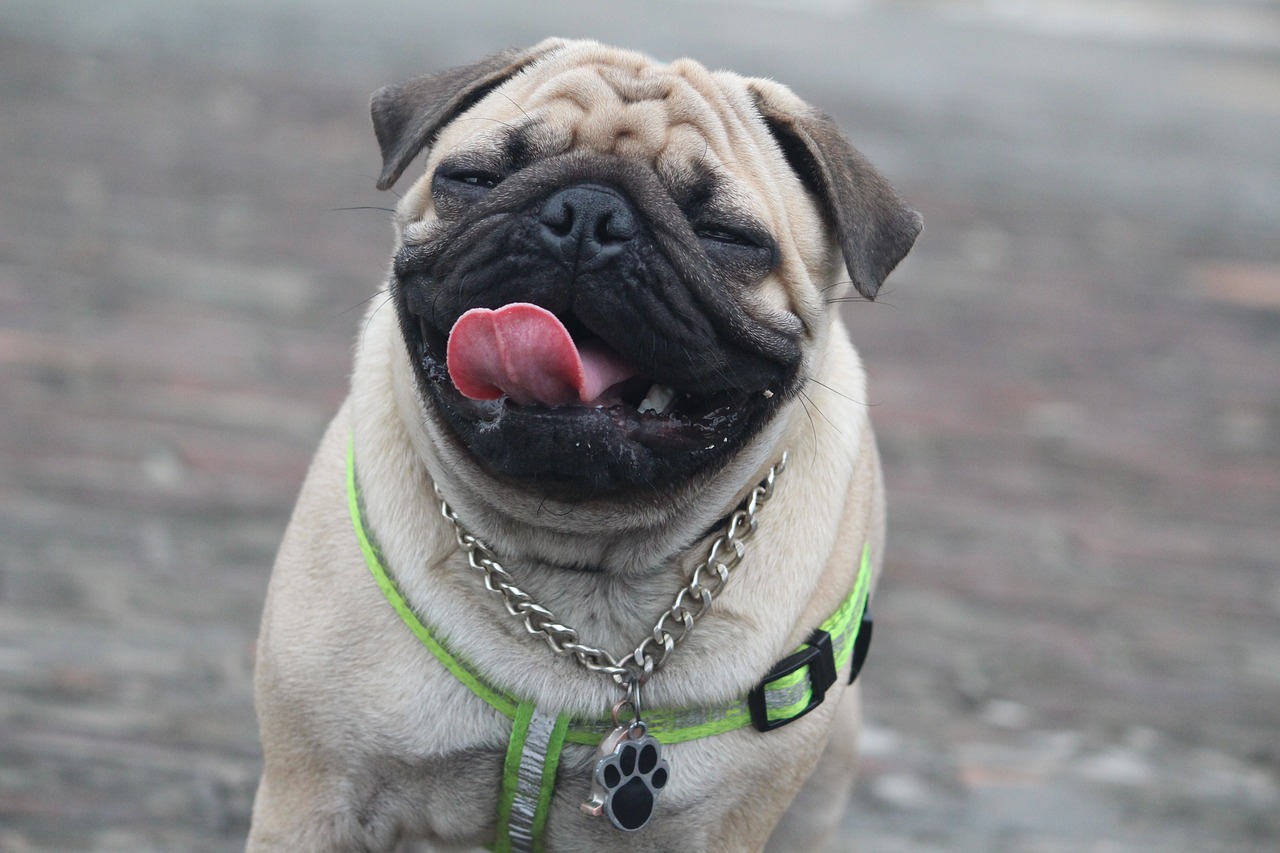 Quick Smiles:
Floki the Pug delivers an amusing and lovingly melodramatic 'scream-song,' capturing hearts and spreading joy across the internet!
Known for their unique vocalizations, Pugs like Floki often 'sing' out of excitement, attention-seeking, or just to communicate with their human friends.
Floki's whimsical concert showcases the affectionate and playful nature of Pugs, reminding us of the endearing quirks that make each breed special.
---
The delightful world of canine quirks has brought forth yet another gem of joyous hilarity!
In a moment of pure canine charm, we meet Floki the Pug, whose ecstatic 'scream-song' has both amused and puzzled the internet, showcasing a harmonious blend of howls and screams lasting a jovial 20 seconds!
For those new to the lively world of Pugs, Floki's performance might seem peculiar, but fret not, our little friend is merely embracing his spirited Pug nature.
With their adorable wrinkled faces and expressive eyes, Pugs have long been cherished as affectionate and playful companions, often stealing our hearts with their dramatic vocal renditions—ranging from lively grunts to harmonious howls!
But what propels our Pug friends into these vocal frolics? It's their distinctive short-nosed anatomy! This unique facial configuration makes them more vocal, turning them into the adorable noisemakers we all love.
Whether it's an expression of boundless excitement, a call for attention, or just their quirky way of 'talking,' a Pug's varied vocalizations are their heartwarming attempts to communicate with their human companions.
Floki, with his theatrical vocal expressions, seems to amplify his responses to the enchanting world around him—be it a beloved toy, the anticipation of a scrumptious meal, or even a rhythmic melody playing nearby.
And let's not forget, our Pug friends do relish attention!
Knowing their vocal escapades draw reactions, they might just be amplifying their charm for those extra cuddles and affectionate belly rubs.
Floki's enchanting TikTok debut offers us a splendid peek into the delightful peculiarities of the Pug breed. His mini concert, filled with amusing vocals, beautifully illustrates the sweet and eccentric essence of Pugs.
Whether expressing joy through howls or singing the soulful songs of their lineage, Pugs, with their animated personalities, never fail to be the enchanting stars of the show, stealing our hearts one note at a time!
So, let's celebrate Floki and his fellow Pugs! Let's embrace the laughter and joy they bring into our lives with their loving antics and melodious 'conversations.'
After all, it's these cheerful moments and loving companions that add that extra sprinkle of happiness to our days!
---
Kind Hearts Shield Convertible From Pouring Rain! [Video]
Quick Smiles:
Four benevolent souls rush to the aid of a stranger's convertible soaking in the sudden rain, bringing smiles to all who witness.
Using a pop-up tent, these unsung heroes ensure the car is shielded, showcasing a spontaneous act of kindness and community spirit.
This heartwarming scene rekindles faith in humanity and serves as a wonderful reminder of the goodness residing in people's hearts.
---
There's a certain kind of magic in witnessing spontaneous acts of kindness, especially when they unfold amidst unexpected storms.
In a moment caught in a TikTok video, we see the world becoming a bit warmer, a bit kinder, as four empathetic individuals rush to the aid of a convertible caught in the unrelenting rain.
We might not know who the owner of the convertible is or why their roof wasn't up, but what we do know is the compassion and community spirit that filled the air as the rain poured down.
It's a delightful scene, witnessing these kind souls, strangers to the car owner, springing into action to shield the soaking car.
In a display of teamwork and kindness, they bring over a pop-up tent, meticulously ensuring it's stable and securely placed over the car. Every careful adjustment, every thoughtful touch, encapsulates the essence of human connection and shared responsibility.
While it's probable the car had suffered some damage, the considerate efforts of these kind hearts unquestionably made a difference.
In a world teeming with haste and individual concerns, witnessing such unprompted acts of generosity and care is indeed refreshing. It's moments like these, where kindness is the hero, that bolster our faith in humanity, reminding us that the spirit of altruism and compassion is alive and well.
This uplifting incident is a beacon of hope and inspiration, gently nudging us to look around and extend a helping hand, to add a sprinkle of kindness in someone's day.
After all, the essence of life is intertwined with the moments of goodwill we share, the smiles we spread, and the hearts we touch.
Isn't it wonderful to realize that the world is still full of people willing to go that extra mile to spread joy and alleviate discomfort? It's these endearing acts, these gentle whispers of kindness, that truly make the world go round, creating a symphony of love and compassion for all to hear.
So here's to the kind souls who protect and care, who spread love without a second thought. Let's follow in their footsteps and color the world with kindness, one thoughtful act at a time!
---
Golden Buddies' Sun-Filled Day of Play Spreads Joy and Smiles! [Video]
Quick Smiles:
Golden Retrievers, Oatmeal and buddy, bring laughter and light with their delightful playdate in the park.
A viral TikTok clip captures the furry friends embarking on various adventures, from splashing in puddles to a friendly game of chase.
This heartwarming moment reminds us of the simple joys of play and friendship, echoing the importance of socialization and health for our four-legged companions.
---
Isn't it delightful to see our fuzzy companions frolicking in the sun, playing chase, and splashing about in mud puddles?
We find a piece of pure, unadulterated joy in a playful moment caught on a TikTok video by @goldenchilaquil, featuring two adorable Golden Retrievers, including one named Oatmeal.
Their wagging tails and ecstatic greetings set the tone for a day filled with happiness and simple pleasures.
Amidst the sun's gentle warmth and the park's vibrant green, our golden buddies engage in amusing escapades, each one brimming with joyful zest.
For our lovely fur-babies, much like us, socialization is a key aspect of a fulfilled life. Interaction with their furry peers not only helps them learn appropriate behavior and essential life skills but also fosters a sense of confidence.
Regular social engagements not only ward off feelings of anxiety and depression in our pets but also mitigate the chances of destructive behavior.
Active play brings along myriad health benefits as well. Remember the joyous splashes in the puddles? That swimming is a superb low-impact exercise, aiding muscle development and promoting joint health.
Even the sheer act of running around the grassy expanses can do wonders for their cardiovascular health and keep those extra pounds at bay!
But it's not just about fun and games. Oatmeal and his charming friend share activities that are therapeutic, enhancing their physical and emotional well-being. In the act of digging and running, they find moments of stress relief and joy.
In our fast-paced lives, we sometimes overlook the simple joys. The laughter and happiness radiating from Oatmeal and his friend serve as gentle reminders to step out and relish in the unabated joy of play and companionship.
A sun-filled day in the park, a wagging tail, a splash in the puddle—sometimes, that's all the therapy we need, to paint our lives with the colors of joy and happiness.
Let's take a cue from our golden buddies. Let's slow down, embrace the warmth of the sun, the laughter of friends, and the sheer delight of living in the moment. After all, a happy heart and a joyful spirit are timeless treasures!
---