Hazel Louise is a fashionable dog who keeps serving looks with her vast collection of turtlenecks.
The 2-year-old silken windhound has long limbs that really make her look like a supermodel.
Because of her thin and long body, she gets cold easily during the cold seasons, so the fashionable turtlenecks also keep her warm.
---
One fashionable dog has become Instagram popular for the looks she constantly serves. Hazel Louise, a 2-year-old silken windhound, has a vast collection of turtlenecks.
With her long body, long nose, long neck, and so-called "linguine legs", Hazel is bound to be a model. And the turtlenecks are the best outfits to accentuate her features.
The fashionable pup has turtlenecks specially made in every pattern and color — she probably has a larger wardrobe than most humans!
Sometimes, the model dog elevates her look with a scarf.
It turns out that the turtlenecks are more than a fashion statement for Hazel. Because she lacks an undercoat and doesn't have a lot of body fat, she can get cold easily. The turtlenecks are the perfect outfit to keep her warm and cozy during the cold seasons.
Her mom, May, told The Dodo, "Because sighthounds like Hazel are so thin, they really benefit from wearing clothes in the colder months."
For warmer seasons, however, she doesn't need to wear clothes, and only wears them for photoshoots.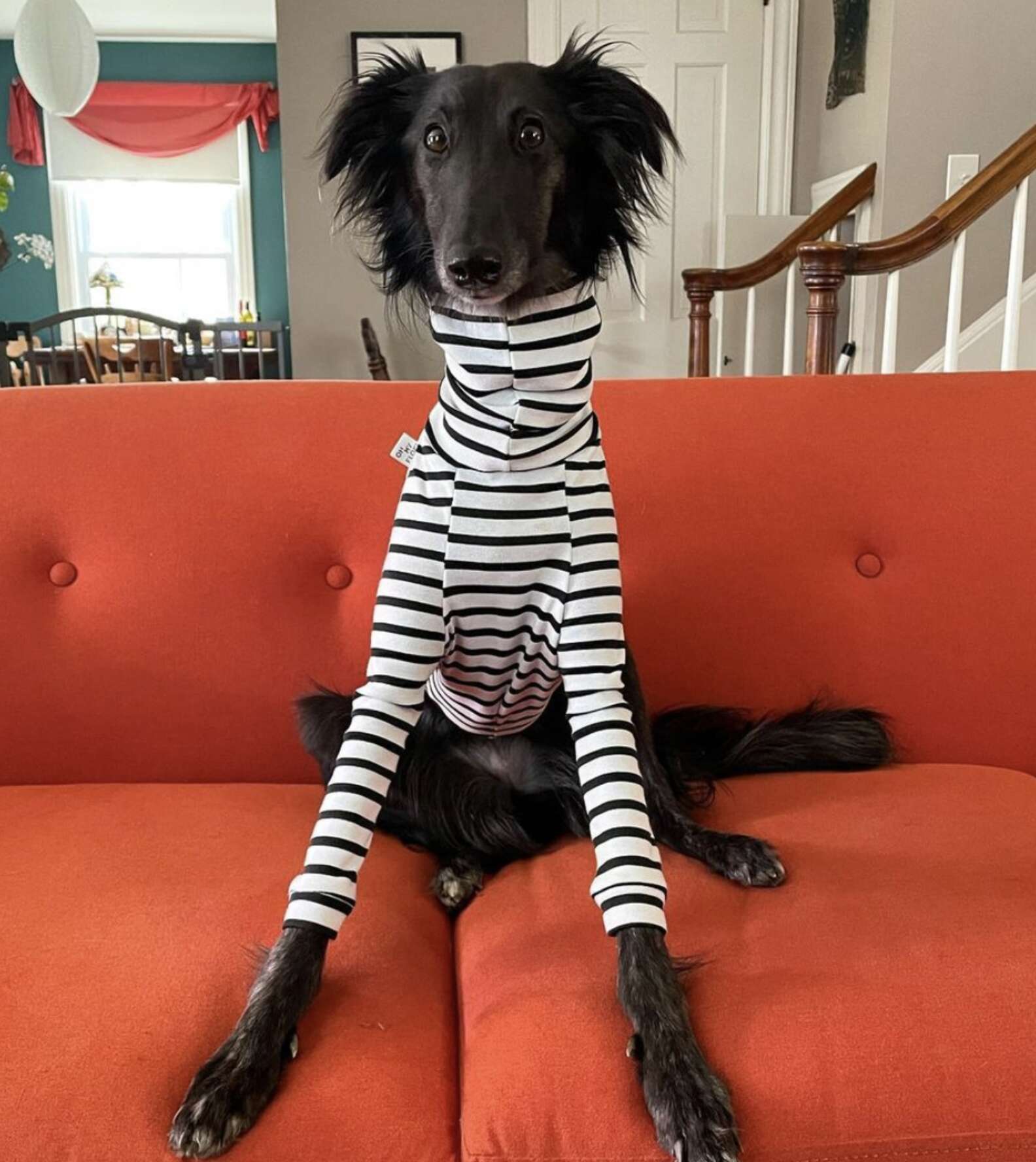 While Hazel may look fancy and preppy, she's far from being a snob. May describes her as having "the sweetest personality."
"She's incredibly extroverted and loves every single person and dog she meets," May added. "If I don't let her greet everyone we pass on the sidewalk, she acts like it's a tragedy."
The sweet pup has unexpectedly become a fashion influencer on Instagram, where she has brought turtlenecks back in style.
But Hazel looks good in just about any outfit.
May shared, "Hazel is honestly the perfect dog in terms of being fun to dress. She's got these wildly long proportions and her black coat means that she looks good in pretty much any color."
"She's also quite a good model," said May.
It turns out that she has an incentive — she gets paid for her modeling work with treats!
You can check out more of fashionable Hazel's OOTDs on her Instagram.
Source: The Dodo