Giuseppe, a chocolate Lab, wanted to greet his new neighbors, the tall Great Danes Vito and Bambino, but he couldn't see past the high wall between them.
No matter how high he jumped, he just couldn't reach it.
After his dad gave him a step stool, he can finally see his new friends eye to eye!
Meet Vito and Bambino. Blessed with length and height, the two Great Danes can easily make friends with their neighbors despite the high wall that separates them.
Their new neighbor is not so gifted, though.
Giuseppe, a chocolate Lab, moved in about six months ago.
Vito and Bambino were excited to meet their new neighbor! Unfortunately, Giuseppe struggled to greet them properly.
Giuseppe is not tall enough to see over the wall!
Vito and Bambino's mom, Afton Tarin, told The Dodo about Giuseppe's plight: "He has tried many times to jump up and get a good whiff of his big doggy friends whenever we're all outside."
"Giuseppe would furiously jump as high as he could and try to say hello," said Giuseppe's dad, Robert Carnes. "I would always say, 'If you only had a step stool.'"
One day, he finally remembered that they indeed had a step stool. So he asked the kids to go grab it for Giuseppe.
Finally, Giuseppe could properly greet his friends!
Robert snapped a picture of the improved situation and shared it with Vito and Bambino's parents.
Afton shared, "My initial reaction was to bust up laughing. Seeing his little feet fully extended and his tail all blurred out from wagging too fast, I couldn't help it. So stinkin' cute. It definitely gives you that feel-good feeling."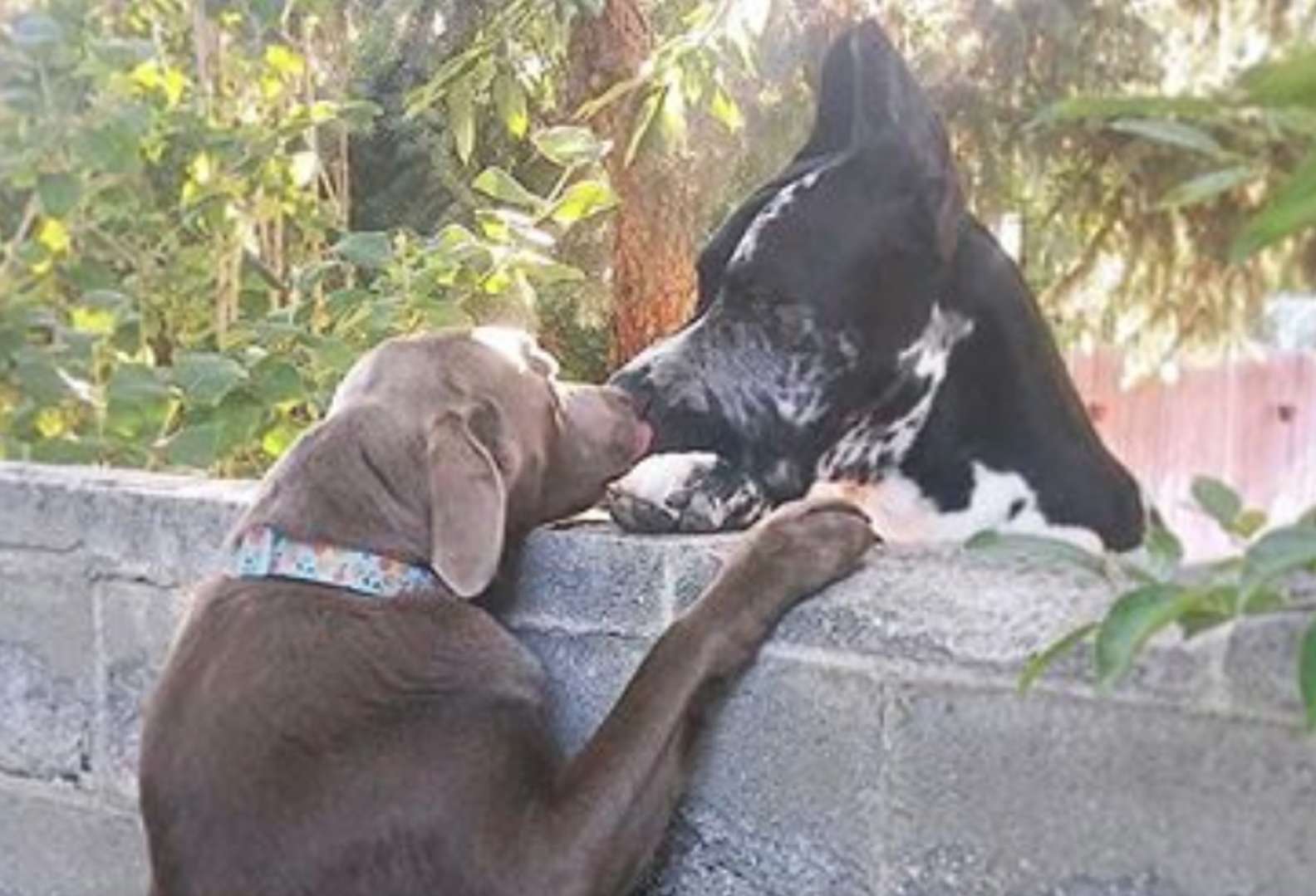 Thanks to the dogs' friendship, their parents have also become friends with each other.
Now, Giuseppe and the Danes don't always have to communicate with a wall between them — they can go on walks together!
"The boys really enjoy each other. It's super nice having that sort of relationship with our next-door neighbors," Afton shared.
Who knew that a wall could create friendships? It's wonderful that Giuseppe, Vito, Bambino, and their parents have found friendship in each other.
Source: The Dodo