When cat mom Jenny Salzer chanced upon a black cat statue at Goodwill, she couldn't get over how much it resembled her cat, Cosmo.
Cosmo absolutely loved the statue the moment he saw it!
Jenny sometimes catches Cosmo happily holding his twin in a big, affectionate hug.
When a cat mom came across a statue of a black cat that resembled her own, she just had to get it.
Jenny Salzer got the cat statue from Goodwill back in March. Though it had some nicks and scratches, she simply couldn't get over how much it looked like her cat, Cosmo.
The statue soon decorated the steps leading to her home, where it remained almost forgotten — until she witnessed the moment Cosmo spotted it.
Cosmo couldn't hide his curiosity at his look-alike! He began to sniff it, then proceeded to affectionately brush his face against it.
Jenny was surprised — Cosmo loved to play, but he had always preferred soft things.
She told The Dodo, "He likes to cuddle and make biscuits on anything fuzzy."
It seemed that even the cold hard stone didn't deter Cosmo from adoring his new twin.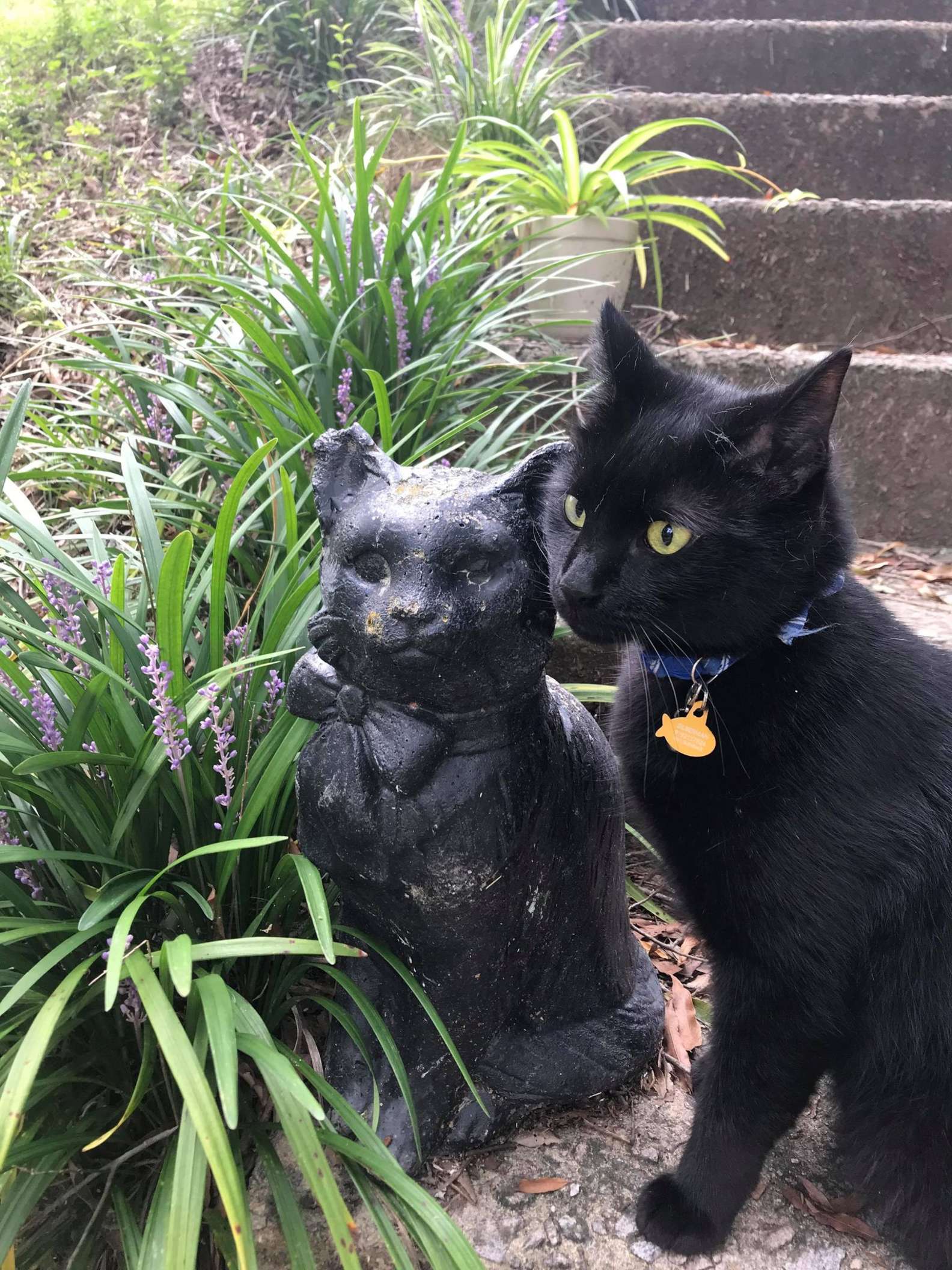 Cosmo's affection for the statue grew even more in the months that passed.
Cosmo mostly spends his time indoors, but whenever he's allowed to hang out in the yard with his mom, he always stays close to his twin.
Sometimes, Jenny even catches him embracing the statue with his paws, all while affectionately brushing his face all over it!
"He normally likes the statue, but he hadn't loved on it so much before," she shared.
At other times, simply staying next to it is enough to bring Cosmo happiness.
Jenny has no idea if Cosmo's affection is caused by recognizing himself in the statue, but no matter the cause, she's simply pleased that her purchase brought him happiness.
Source: The Dodo