Grandmas seem to always know the perfect gift to give — and they can even create it by hand, which makes it all the more special.
A cat named Cat received one such special gift from her grandma: a tiny crocheted couch!
Cat now has a stable space to nap in instead of sleeping on her dad's feet.
Handmade gifts are really special. So a grandma decided to create one for a beloved cat named Cat.
Cat is described by her dad, Josh, as goofy, erratic, and weird.
Josh told The Dodo that Cat has been used to sleeping on his feet all day since he works from home. Cat then "gets playtime and zoomies at lunchtime and at 5 p.m." when he's done with work.
Josh's feet soon found some rest from being Cat's bed when his birthday arrived. He joked that since he's "notoriously hard to shop for," his loved ones just started giving presents to Cat during his birthday and the holidays.
His mother-in-law's birthday gift was an adorable miniature couch for Cat! She had found a pattern online and dedicated two days to create the cute sofa, which came with a tiny blanket.
Josh shared that Cat "was very uninterested at first," and, like most cats, preferred the box that it came in with. Eventually, "she started to come around."
Cat took her time to understand how the couch worked, but after she got used to it, she started to love it so much!
Josh's feet are ready to retire from being Cat's bed thanks to Grandma's couch.
He added that Cat likes to "alternate between sleeping on a person, and sleeping on a pillow," especially when the person is too fidgety to be her bed.
But after she received her couch, Cat now prefers the couch over a pillow.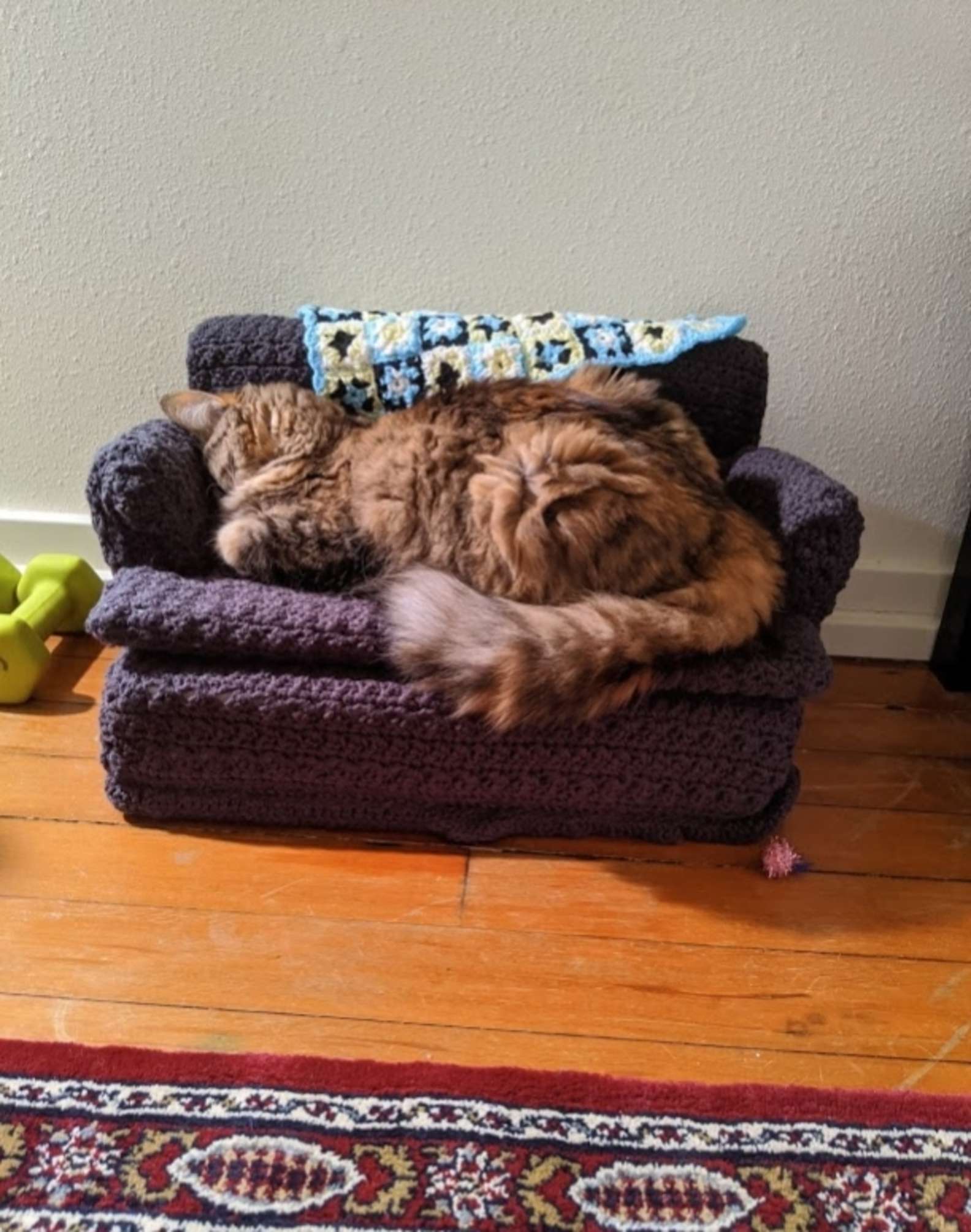 "So far Cat hasn't complained," Josh shared.
That tiny couch is so adorable! Cat has finally found a secure, stable space to nap in. Grandmas are just the best.
Source: The Dodo