Young Cancer Survivor Receives Super Bowl Tickets from Tom Brady [Video]
Noah, 10, was going through a tough time battling cancer when he received a message of support from NFL icon Tom Brady.
Noah held on to the video for strength, won his battle, and attended a game with a huge sign for Tom.
Tom noticed him and his sign, and later gifted him tickets for the Super Bowl!
---
Noah Reeb, 10, was diagnosed with a brain tumor last year. He had to overcome several rounds of radiation, chemotherapy, and surgery — it was too much for someone to endure. Fortunately, he had the support of his family, and his hero, Tom Brady.
The NFL star and Tampa Bay Buccaneers' quarterback has been known to send messages of support to fans who are going through tough times.
So Noah's family tried to appeal to his favorite player, and was surprised to get a heartwarming video message!
Noah and his mom Jacque started laughing and crying together in the car as they watched Noah's hero on the screen.
Tom had said, "Hey Noah, I just wanted to let you know that I'm thinking about you. I know you're one of my biggest fans in Utah, and I know you've got a great family that loves you and support from your mom and dad and your siblings, and I just want to let you know I'm thinking about you, I'm with you, my thoughts and prayers are with you and your family, and hang tough. You're gonna be great, I know it, and get well soon. Take care."
As Noah continued his treatments, he held onto the video for strength.
Noah shared, "I'd always watch that video just like, to remind me of like, Tom Brady thinks I can beat cancer, so I guess I can beat cancer."
The brave boy won his battle a few months later. He was able to watch a Florida game and see his hero in action. He made sure to make a special sign to try and get Tom's attention.
It definitely caught the attention of his hero!
Tom didn't resort to just a wave — he ran over to Noah, handed him a hat, and shook his hand!
It definitely made Noah's day.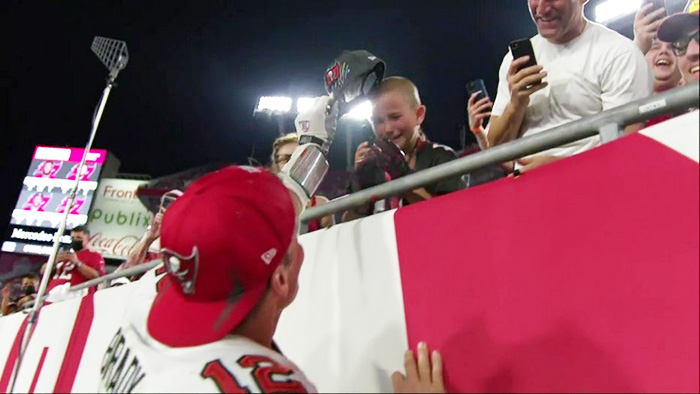 Tom didn't let it end there. On New Year's Eve, he prepared another surprise for his young fan.
He held a video conference with Noah's family, and gifted them tickets to this year's Super Bowl in Los Angeles, California!
Tom told Noah, "Your fight, you've inspired so many people — including myself, but millions of others also. The NFL and the Bucs look forward to sending deserving fans to the Super Bowl each year, and fans that have incredible stories like the one you've had. So as a thank you, I worked with both the Bucs and the NFL to get you and your family Super Bowl tickets this year in L.A.!"
That's so sweet!
Congratulations, Noah! Enjoy the game with your family!
Source: Inspire More